Welcome to the All Nations SDA Church (Winter Haven) in Winter Haven, FL. We are a Christian community and would love to have you join our family. To learn more about what we believe you can visit our About Us page. Please join us for Bible study, worship, and prayer.
2022 Youths Day 
Please join us this coming sabbath July 30th for our youth's day. It will be filled with young people demonstrating their talents in use for the lord. Do not miss this blessing, for further information please refer to the flyer below or reach out on our contact us page. We look forward to seeing you!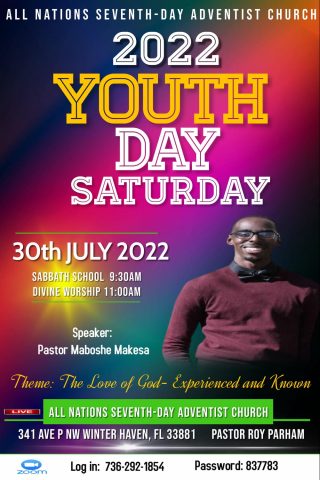 COVID-19 ANNOUNCEMENT
Due to the current outbreak of the Covid-19 virus we are implementing measures to ensure the safety of our members as well as the public. We still meet on Sabbath's in our physical location. However we also offer an alternative option through the video conference software Zoom. If you would like to join us in fellowship please reach out to Brother Roger via WhatsApp or Text Message ONLY at (321)-443-8414 for further information. 
Pastor Roy. C. Parham
All Nations SDA Church (Winter Haven)